Description
Suitable for boats without bow rails.
Design to fit T-Top type boats.
Cover will accommodate outriggers mounts VHF & GPS & Rod holders, suitable for boats without or low bow rails.
Ideal for winter or long-term storage.
The cover is constructed of the highest quality 240gsm Atlas marine fabrics.
Flat double lock seam stitching and highest quality UV threads ensure an extended life expectancy.
6mm breaded rope encased in hem, rope ratchet for easy gathering and tighten down the cover.
A full set of tie-downs.
Choose the style that best suits your boat then follow the measuring instructions to find the correct size.
1.  Measure Boat Length
Measure in a straight line the centreline distance of your boat from Bow to Stern.
2. Measure Beam Width
Measure in a straight line the distance across the beam (widest point of your boat)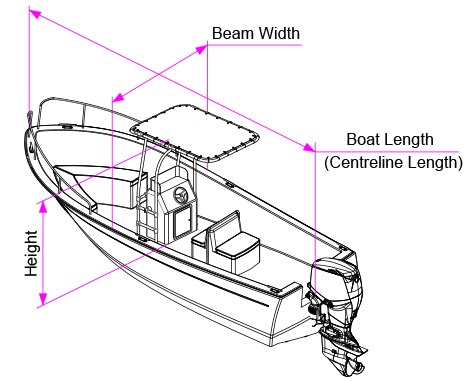 NOTE:  It is recommended that both measurement instructions are used to help you choose the correct cover size.
OVERALL FABRIC MEASUREMENTS
1. Measure Fabric Width
Using the 'overall cover fabric width' measurement of your chosen cover,  measure across the widest point of your boat, over the top of any boat fittings
e.g. cabin, windscreens etc.to the point on the hull where the cover's hem will finish.
1. Measure Fabric Length
Using the 'overall cover fabric length ' measurement of your chosen cover, measure along the length of your boat, over the top of any boat fittings e.g. cabin, windscreens etc. to the point on the hull where the cover's hem will finish
Overall Cover Dimensions
W FABRIC WIDTH
 L FABRIC LENGTH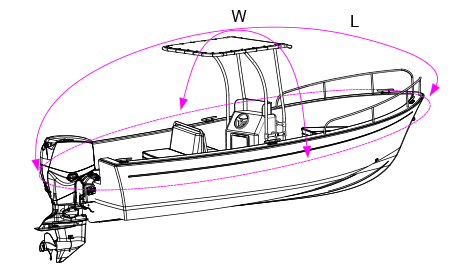 | | | |
| --- | --- | --- |
| CODE | W FABRIC WIDTH | L  FABRIC LENGTH |
| MA 505-1 | 5900mm | 7950mm |
|  MA 505-2 | 6000mm | 8250mm |
|  MA 505-3 | 6100mm | 8600mm |
|  MA 505-4 | 6200mm | 8900mm |
|  MA 505-5 | 6300mm | 9200mm |
|  MA 505-6 | 6400mm | 9550mm |
|  MA 505-7 | 6500mm | 9800mm |
|  MA 505-8 | 6500mm | 10100mm |
|  MA 505-9 | 6600mm | 10400mm |
|  MA 505-10 | 6700mm | 10700mm |
|  MA 505-11 | 6800mm | 11000mm |
|  MA 505-12 | 6900mm | 11350mm |
|  MA 505-13 | 6900mm | 11600mm |
|  MA 505-14 | 6900mm | 11900mm |
|  MA 505-15 | 6900mm | 12150mm |
|  MA 505-16 | 6900mm | 12400mm |
|  MA 505-17 | 6900mm | 12700mm |
Weight
280 g/m2
Material
100% High Tech Polyester
Water Column
≥ 150 mbar (1500 mm)
Light & Weather Fastness
Note 6-7
Tensile Strength
≈ 2200 N¹ | 1400 N²
Elongation
≈ 40 %¹ | 30 %²
Colour Fastness to rubbing
Note 4-5³ | Note 44
Chlorine Resistant
Note 4-5
Water Repellency
Note 100
Oil Repellency
Note 4
Coating
Polyurethan [PU]
UV Protection Factor
UPF 50+
(measured value > UPF 80)
Vous aimerez peut-être aussi…