The Importance of Good Boat Seats & Cushions for Posture & Comfort
You may have heard before that "sitting is the new smoking." The idea is that both sitting and smoking can provide some sense of relief, but they're both bad for your health. Well, it's pretty hard to completely avoid sitting, especially for most of us nowadays.
Sitting should therefore be comfortable and ergonomic. What type of chair or seat you use at home for work or study is important for these reasons, and so too are the seats and cushions used on your beloved boat.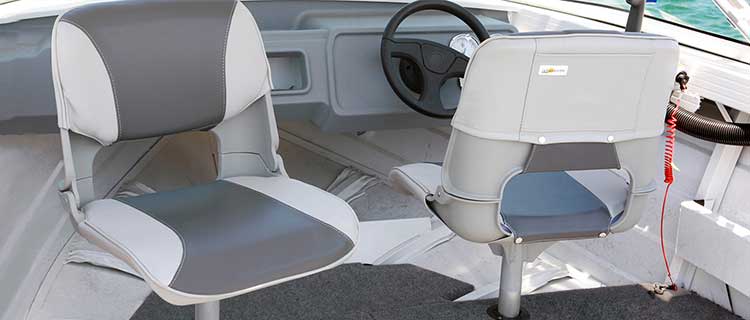 What Makes a Good Boat Seat?
Good boat seating needs to meet a few key criteria:
Comfort: Journeys by boat should be done in comfort, so choose a seat with a comfortable, upholstered material that provides support for your back
Ergonomics: Much like office chairs, boat seating should be somewhat ergonomic by giving ample support through molded foam cushions and back support
Durability: The seats should be supported with durable metal supports and swivels as well as rigid hinges and inner frames to support your weight and movement
Resilience: Boat seats are constantly exposed to the elements, so they must be made of high-quality materials such as marine-grade vinyl
Security: Unlike office chairs, boat seats might do quite a bit of rocking and sway (well, your boat maybe!). Your boat seats should be secure, which means secure supports and swivels but also a simple shape without armrests or other obstructions that can cause injury or physical harm in the event of rough weather conditions
UV Protection: Constant exposure to the sun can be damaging for you and your passengers as well as to your boat and the boat seating. Choose boat seats with strong UV protection
Boat Seats vs Fishing Seats vs Boat Cushions
Boat seating varies depending on its intended use and the type of boat you own. Generally, the three types of seating to consider are boat seats (e.g. for the captain) & skipper seats, fishing seats, and boat cushions.
All three types of seating should be high-quality and comfortable, even if they differ in their use. Fishing seats, for example, should be foldable and collapsable so that they don't interfere with the normal operation of the boat yet can be deployed quickly and easily when you've arrived at your favorite fishing spot.
Boat cushions should mostly prioritize comfort and ease of storage. Passengers need a place to sit, so give them a good high-quality boat cushion for enjoyable days out at sea. Your boat cushions should be easy to stow away when the boat is not in operation and easy to lay out as a bench for passengers when needed.
Where Can I Buy Quality Boat Seats & Cushions?
Many boating shops in Australia have quality boat seats and cushions that can meet your needs. When it comes to high-quality seats and cushions, however, trust a name that is well-reputed for boating products. Oceansouth is a leading supplier of boating products, including comfortable and durable boat seats, fishing seats, and boating cushions.
Shopping online has perhaps never been easier, including for boating products and supplies. Our extensive product catalog contains all sorts of comfortable seats to make your days at sea all the more comfortable.